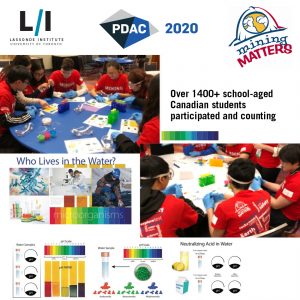 A new partnership between University of Toronto' Lassonde Institute and Mining Matters (PDAC) launched early this year.
The educational outreach initiative created hands-on learning workshops illustrating the interconnection between water, environment and mining activities to Grades 7/8 students across the GTA.
Highlighting the importance of water quality and sustainable efforts in mining, the workshops showcase the many interdisciplinary jobs and opportunities needed to tackle the major challenges.  The participants are exposed to geochemistry, microbiology and state-of-the-art genomics, the exciting world of research as well as the important environmental applications for our planet.
The partnership's goal aims to inspire an upcoming generation to tackle global water sustainability in mining and beyond.
The workshops continue to roll out across the GTA, during PDAC and currently is being piloted in Northern Canada including First Nations communities.
Stay tuned for more details!