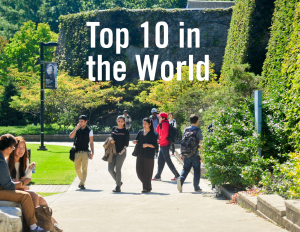 Psychology research at the University of Toronto is ranked second in the world – just after Harvard University – in a new ranking of subjects by the independent Shanghai Ranking Consultancy.
In addition to psychology, U of T also ranked third in medical technology, fifth in public health, sixth in human biological sciences and ninth in biotechnology, finance, and mining & mineral engineering in the report.
The 2017 Shanghai Subject Ranking, released earlier this week, surveyed more than 500 top global universities in 52 subject areas.
Overall, U of T ranked in the top 25 for 25 different subject areas – only four universities were ranked in more subjects (Harvard, Stanford, Berkeley and MIT).
Among Canadian universities, U of T was ranked first (or tied) in 28 of the 46 subjects it was ranked in.
"It's wonderful to see the continued recognition that the University of Toronto is one of the few institutions in the world with strength across the full breadth of areas of scholarship," said Vivek Goel, U of T's vice-president of research and innovation.
The 2017 Shanghai Subject Ranking looks at natural sciences, engineering, life sciences, medical sciences and social sciences, with the majority of its subjects falling under engineering. It uses bibliometric data as the source for the majority of its indicators, complemented by data on faculty honours and awards in selected subjects.
Each of the subjects have a differing mix of indicator weightings, thresholds for inclusion and depth to the rankings depending on the characteristics of the data.
The Shanghai Ranking Consultancy is also the publisher of the influential Academic Ranking of World Universities (ARWU), commonly known as the Shanghai Ranking. This year, the ARWU ranked U of T 27th in the world.
In March, a similar report on global subject rankings by software company QS Quacquarelli Symonds placed U of T in the top 10 globally in nursing (6th), sports-related subjects (6th), anatomy & physiology (8th), geography (9th), computer science (10th) and education (10th). Medicine, anthropology and religious studies just missed the top 10 list, landing in 11th place.
Among Canadian universities, U of T was first in all five of the broad subject areas and first in 32 of the 43 subjects in which the university was ranked by the QS World University Rankings by Subject.
Globally, the results place the University of Toronto among the world's elite institutions in all five subject areas and in 43 of the 46 subjects surveyed. The university scored even higher when public higher education institutions alone were counted in the subject areas ranked.
Overall, the University of Toronto continues to be the highest ranked Canadian university and one of the top ranked public universities in the four most prestigious international rankings: Times High Education, QS World Rankings, Shanghai Ranking Consultancy and National Taiwan University.
This article originally appeared on U of T News.